Way back when, One Direction announced their hiatus which sent fans into meltdown. Here we are today, with the guys separately doing their own thing, some have singles out, some are about to release some more, but today Harry Styles debut album was released.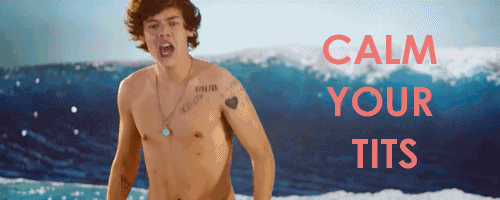 The tracks are:
1. Meet Me in the Hallway
2. Sign of the Times
3. Carolina
4. Two Ghosts
5. Sweet Creature
6. Only Angel
7. Kiwi
8. Ever Since New York
9. Woman
10. From the Dining Table
Today, Harry Styles went on Radio 1's Breakfast Show, with host Nick Grimshaw and discussed certain songs, such as: Carolina, Two Ghosts, Woman and Kiwi.
(Interview below)
Of course questions were asked about the songs, such as 'Carolina', and questions of who the girl might be, similar to the questions about 'Olivia' from One Direction's album 'Made in the A.M.'. Questions were asked about the song 'Two Ghosts' as the media have suggested it to be about Taylor Swift, as show in the interview above. Harry does his best to avoid this question, considering he gets asked this question constantly ever since they were photographed together back in 2012.
The interview also discusses what romantic comedies he watched as suggested in song 'Woman'. Which then becomes a discussion of how much Harry Styles loves 'The Notebook', he denies that he doesn't love it as much as Nick Grimshaw suggests, but this is not the first time he has mentioned 'The Notebook', as you can watch below (at- 4.32 minutes).
A lot of pressure was placed on Harry as well as other members of One Direction as history shows that not all band members do make it successfully once they've gone solo. The media also started questioning Harry's style (no pun intended) and whether he was going to be a new rock legend.
The album speaks for itself. We see his vulnerable side and some of the lyrics being highly emotive and personal. Which is also reflected in Harry's previous song lyrics, which he wrote in One Direction.
What do you think? Do you have any track favourites?
My favourites: 'Sweet Creature' and 'From the Dining Table'.